Kao Hang Industries Co., Ltd.--Piston rods for auto and motorcycle shock absorbers, hollow piston ro
- 2009/04/17 -
Established in 1989, Kao Hang Industries Co., Ltd. is an ISO 9002-certified maker of high-precision piston rods for automotive and motorcycle shock absorbers. The firm also supplies hollow piston rods for adjustable shock absorbers, drive shafts, hydraulic cylinder units for sports equipment, center shafts for business machines, pneumatic cylinders for OA chairs etc. The company claims that its core competitiveness lies in high product quality and competitive prices.

Kao Hang owns the comprehensive in-house manufacturing capability and equipment, including computer numeric control (CNC) lathes, self-centering grinding machines, advanced chrome-plating lines, and water-disposing equipment etc.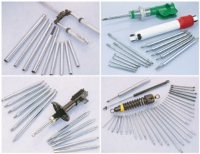 Tel: (886-6) 2531778
Fax: (886-6) 2535555
E-mail: kaohang@ms57.hinet.net